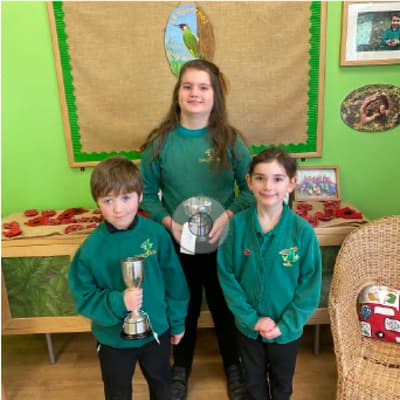 A student wins the same cup as the director at the 1977 Festival
They were to perform solo in front of large audiences of competitors and accompanying adults from schools in B&NES and beyond.
Headmistress Ms Bazeley, who accompanied the children, said she was truly proud of the resilience and confidence shown by all the students who performed at a high level with confidence.
She said: 'We love to encourage kids to come in – controlling the nerves, rising to the occasion and performing in front of an audience teaches children essential life skills for a world in which they can be required to make presentations or perform well in interviews. . Our first graders, who are only five and six years old, have been extremely brave.
This year, the sixth time Longvernal has participated in recent years, has resulted in particularly impressive results for the school. All of the children who participated achieved at least a Merit (a capable performance demonstrating some artistic appreciation and/or technical ability), with the majority being awarded a Commended (a technically and artistically convincing performance) and four children have obtained a Distinction (an excellent performance, technically and artistically).
Special mentions go to Percy in Year 1 for taking first place and winning The Plowman Memorial Trophy for Verse Speaking. This surprised and delighted manager Ms Bazeley as she has fond memories of winning the exact same trophy, in 1977 – surprisingly the names on the Cup have not yet been filled in so it still bears her name, which will soon be joined by Percy's! In the same class, Ziggy came second. In Grade 4 Verse, Bertie came second and Connie came second in Grade 4 Read Aloud. Mia took first place in Year 3 Verse Speaking and received a souvenir badge. Arabella came second in the same class. In Year 5 Verse Speaking, Benji took first place in his section and first received a souvenir badge before later finding out that he had, in fact, achieved the highest score in both sections of the year 5, which means he had won the Cawood Challenge Rose Bowl; he received it at the winners' concert at the Mission Theater in Bath on Friday 18 March, at which he was invited to perform.
Director Karen Bazeley added: "Just taking part is an incredible experience and accomplishment, but to have such great success this year has been wonderful. I would like to thank all the parents and family members who have helped their children learn their poems and practice their poems and prose readings at home. »