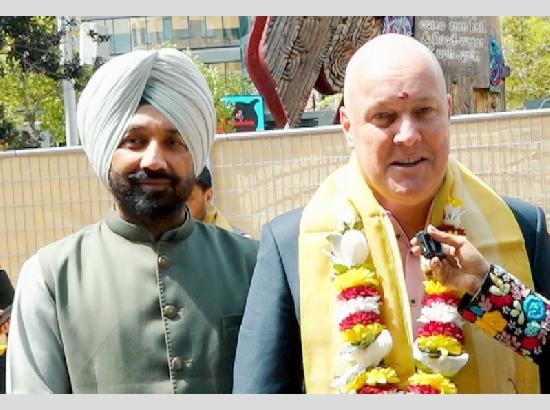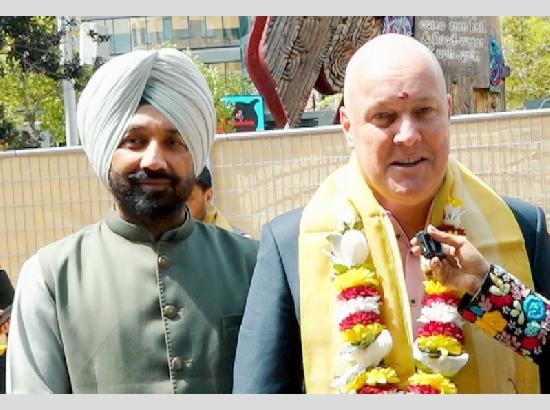 Photo source: Babushahi Office
NID Foundation Chief Patron Satnam Singh Sandhu Joins Indian Community During Auckland Diwali Festival in New Zealand
Babushahi Office
Auckland, October 8, 2022: S. Satnam Singh Sandhu, Chief Patron of the NID Foundation, joined the Indian community during the Auckland Diwali festival, which is one of the biggest celebrations of the great Indian festival in New Zealand.
At around 1.5 Lakhs, Auckland has a strong presence of the Indian community, who have come together to celebrate this festival of light, as part of the two-day festival.
Alongside Sandhu, Priyanca Radhakrishnan, New Zealand Minister for the Community and Voluntary Sector, Minister for Diversity, Inclusion and Ethnic Communities and Associate Minister for Social Development and Employment; Christopher Luxon, Leader of the Opposition; Phil Goff, Mayor of Auckland; Craig Cooper, Director, Asia-New Zealand Foundation; Mr. Bhav Dhillon, Honorary Consul of India; Prof. Himani Sood, Founder of the NID Foundation; and Nick Hill, Managing Director of Tataki Auckland Unlimited were also present on the occasion.
Priyanca Radhakrishnan, the Indian-born First Cabinet Minister, extended Diwali greetings to the whole community and said, "Diwali is the biggest festival in the Hindu calendar and now also in the Auckland calendar. It's nice to celebrate it with pomp and festivity here. This is a great opportunity for our Indian community to celebrate this festival and share it with other communities across New Zealand, which is an incredibly diverse nation and we are stronger for it. The message of Diwali is the triumph of light over darkness and hope over fear, which is relevant for all of us, regardless of communities and regions.
"The long-standing and warm relationship between New Zealand and India dates back to 1890. I would like to thank the Kiwi Indian communities who have made invaluable contributions over many decades and in various sectors to the socio-cultural fabric and the New Zealand economy. Thanks for that. Indian External Affairs Minister Dr S Jaishankar's visit to New Zealand earlier this week, the first in 20 years, is significant and a testament to the strengthening of relations between the two countries," she said.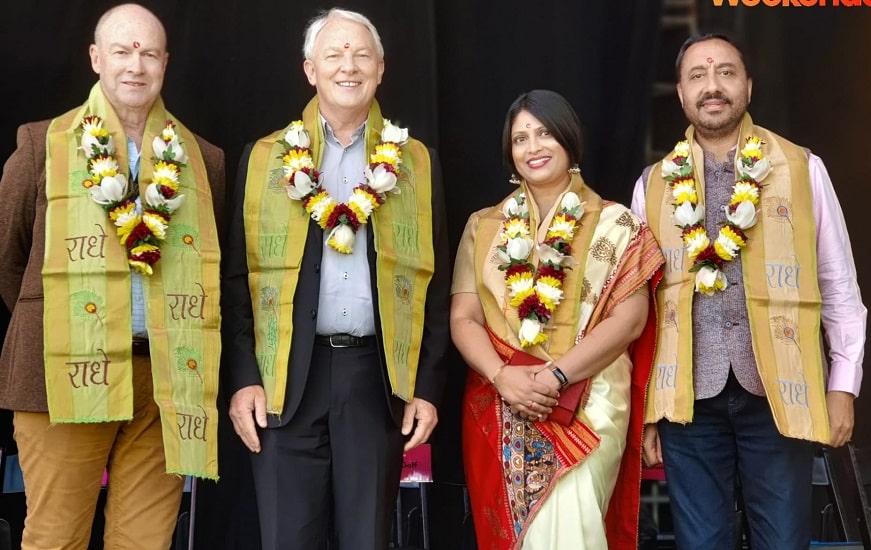 The Minister informed that the Sky Tower in Auckland will be illuminated to create the world's largest Diya on Diwali, embodying the message of the triumph of light over darkness.
In his address, Opposition Leader Christopher Luxon said the message of the Diwali festival is more relevant to the world today than at any other time.
"New Zealand is a multicultural society and I am extremely happy that so many Indians have chosen to live in New Zealand. The diaspora here in New Zealand are growing and working incredibly hard and they are a great example for other New Zealanders. -Zealanders because they work incredibly hard and make life better for themselves, their families and their community.They are such a passionate and diverse community that has made New Zealand a much better and richer place, economically ", socially and culturally. Other communities in New Zealand should learn from Indians how to contribute to the economic and social development of the nation," he said.
Praising Indian Prime Minister Narendra Modi, Luxon said, "I am a huge fan of Modi's leadership and the way he has led India over the past few years has been incredibly admirable. I invite PM Modi to come and visit us all in New Zealand.
Auckland Mayor Phil Goff said Diwali is one of the most popular festivals in Auckland city's annual calendar which gives citizens a taste of India.
"As the festival is celebrated after a two-year hiatus due to the pandemic, Diwali which signifies and symbolizes the victory of good over evil, love over hate, knowledge over ignorance and light over darkness, takes on greater significance than ever," he said.
"In the world we live in today with a pandemic, threats of war and nuclear weapons, and incidents of human rights violations, it is good to take inspiration from Mahatma Gandhi who said "Throughout history, the way of truth and love has always won. There have been tyrants and murderers, and while they seemed invincible at one time, but in the end they always fall". As we celebrate Diwali, let us act on the belief of Mahatma Gandhi," the mayor said.
Speaking on the occasion, Satnam Singh Sandhu, Chief Patron of NID Foundation expressed his joy to be part of the Diwali festival being celebrated in Auckland.
"I am happy to have joined my fellow Indians abroad to celebrate one of India's greatest festivals. The Indian diaspora has contributed significantly to the growth of the nation and this is a moment of proud for me to witness the immense respect that India and Indians have among the people of New Zealand, in addition to the unwavering support of the New Zealand government," he said.
"Under the visionary leadership of Prime Minister Shri Narendra Modi, India's status has risen on the world map, whereby Indians have earned special recognition and respect in every country. I have observed that Prime Minister Modi is immensely popular not only among the Indian community, but he enjoys an excellent reputation among world leaders," he added.
As in previous years, Auckland's Diwali Festival also got off to a strong start this year, with captivating dance performances, live music, mouth-watering vegetarian food, a Rangoli competition, vibrant arts and crafts and a final fireworks display staged to delight the audience, which largely involves more than 25,000 members of the Indian diaspora, primarily the Gujarati and Punjabi Sikh community. The Mr and Ms Auckland 2022 competition was also held at the Festival.