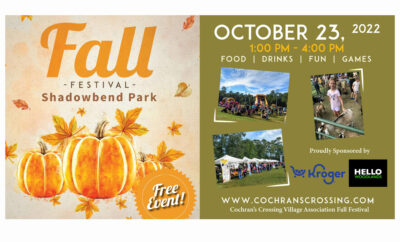 Cochran's Crossing Announces Free Annual Fall Festival Community Event
THE WOODLANDS, TX – The Cochran's Crossing Village Association (CCVA) is pleased to announce that the annual Cochran's Crossing Fall Festival will be held October 23, 2022 from 1:00 p.m. to 4:00 p.m. at Shadowbend Park, 4995 Lake Woodlands Dr, Spring, TX 77382. The family festival is free and open to the community. The event attracts more than 1,500 people each year.
The event is sponsored by CCVA, Kroger and Hello Woodlands. Proceeds from booth rentals from participating organizations fund the CCVA scholarship fund in addition to grants to teachers at local schools.
The festival will feature two professional makeup artists, food, petting zoo, bouncing houses, rock wall, carnival games, trackless train, fall photo ops, live performances, candy, vendors, crafts, cookie decorating, two traveling performers, a visit from the fire truck and public safety officers, and more. Attendees will also be treated to children's performances from local music schools and talent groups.
Shadowbend Park is the perfect backdrop for the event, with a large soccer field that will be filled with activities including a giant inflatable soccer game, multiple bouncy houses, a cake walk, and children's games.
New this year is the Special deliveries ice cream truck. The truck is staffed by people with autism and/or intellectual disabilities, giving them meaningful employment. Ice cream sales benefit the Neighborbridge, a local non-profit organization whose mission is to assist in the development and management of affordable, enriched, and community-integrated housing for people with autism and/or intellectual disability.
"Each year, our CCVA Board of Directors is delighted to host the Fall Festival," said Amanda Van Dusen, CCVA Board Member and Fall Festival Chair. "We will have many activities that families love every year, as well as new entertainment for the community. We are happy to introduce residents to local businesses and non-profits at this fun, family-friendly event. This festival is a great way to support our local kids while they perform, support community organizations and businesses, and fund scholarships for our graduating seniors. I look forward to meeting new neighbors and hosting old friends for an afternoon of fun!"
Contact Amanda Van Dusen for more information at [email protected] Find out more about Cochran's Crossing at www.cochranscrossing.com. For more information about the festival, visit the CCVA Facebook page at www.facebook.com/cochranscrossingvillage.
Looking for local fall festivals? Find out more at www.hellowoodlands.com/local-fall-festivals-2022.