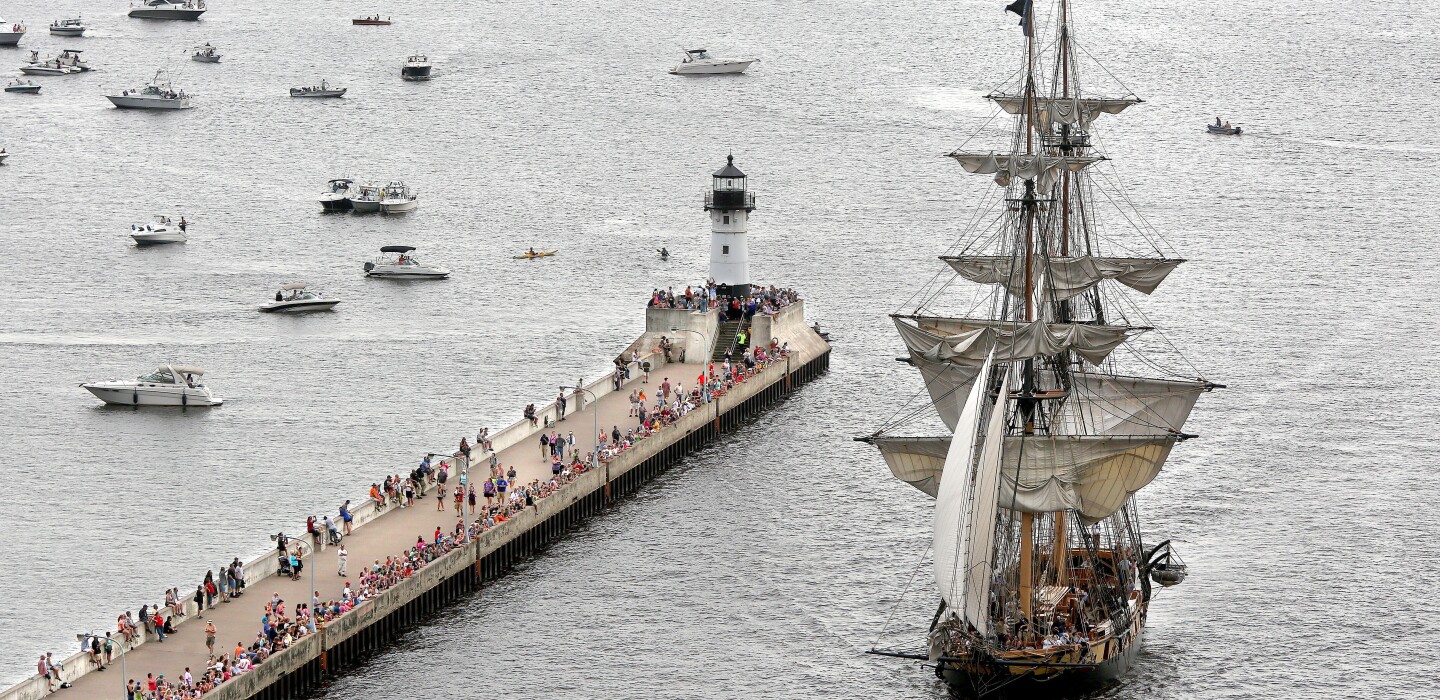 Could police departments, other city costs sink the Sailing Festival? – Duluth Newsstand
TWO PORTS — The Town Hall must find external funding or release its own funds to cover its expenses during the Sailing Festival scheduled for August.
A revised cost estimate shows the city will spend more than $170,000 to make the event happen, with outside law enforcement costing more than $89,000 and the Two Harbors Police Department itself. needing nearly $44,000, according to a memorandum from the city's chief financial officer, Miranda. Pietila. The remaining costs include communications and emergency management; miscellaneous equipment, supplies, food and drink for emergency personnel; public works personnel; road closures; and signs.
The event, scheduled for Agate Bay in Two Harbors from August 4-7, is expected to draw thousands to the small North Shore town.
Festival of Sail promoter Craig Samborski pledged $12,000 to ease the city's burden, but in February agreed to reimburse the City of Two Harbors for all key expenses, including enforcing the law and public works.
He said on Monday night that the estimated costs for policing this event were three times the cost of some of his other Festival of Sail events he hosts around the country.
"I've never seen a festival with this kind of expense before for law enforcement and we're not in a position to pay this kind of money for it," Samborski said during a session. agenda Monday where council and city staff discussed options. for the financing of the event. Samborski added that he would even contribute up to $15,000, which is $3,000 more than what is listed in the city's memorandum.
Two Harbors Police Chief Rick Hogenson defended the plan and its cost. He said he formed it with guidance from the Duluth Police Department, which has hosted the event several times when it's been held in Duluth: "Don't skimp on your staff. You are going to be busy.
"Most of the dollars go to endowment," Hogenson said. "This is the staffing plan I recommend as police chief."
Samborski met with city staff last week where one option to raise funds included selling 1,200 festival-goer parking permits for residential areas of the city. This plan could fetch around $70,000.
Additionally, Pietila, in his memorandum, offered several options for the city, which included a levy from the liquor store and/or campground reserves or a uniform levy – either as a certain percentage or of more than $19,000 each – from these supplies as well as general , water, sewer, electric, gas, storm water and liquor supplies.
She also said the city may seek additional funding from outside tourism organizations such as Lovin' Lake County and Explore Minnesota.
Several councilors said they were in favor of this alternative because they did not want taxpayers' money earmarked for the event.
"We don't want it to be a burden on our taxpayers to have this event. … We all want to see some level of success, but I am fighting right now to make it happen at the end of June knowing that this event is 52 days away," councilor Cathy Erickson said during the session of the Monday's agenda.
The board is expected to determine whether to fully, partially or not fund the remaining costs at the next meeting on June 27.
Until then, Acting City Administrator Joel Dhein will seek outside funding to cover the city's expenses for the event.
Failure to fund the city's costs would mean cancellation of the event, the memorandum says. And while partial funding is technically an option, Hogenson cautioned that it's not possible to partially fund law enforcement staffing.
But Samborski said it was too late to cancel.
"The ship sailed," Samborski said. "Our company has moved forward with the support of this council at the event and has made hundreds of thousands of dollars in deposits now. I mean, we have no choice.