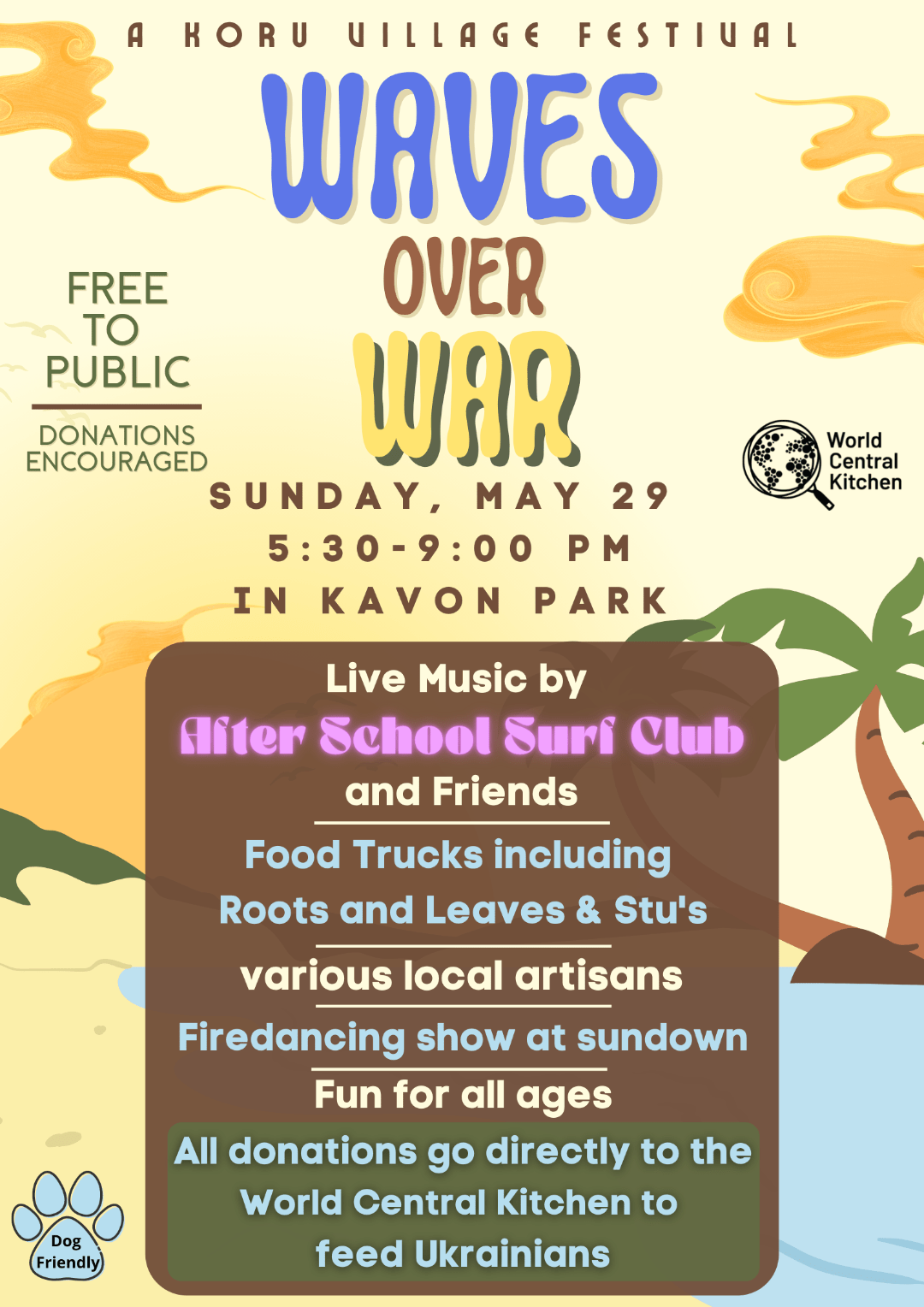 The first ever Waves Over War festival on May 29 will benefit the people of Ukraine
A new Avon-based festival featuring live music, regional artists and food vendors is launching on Sunday, May 29, with the aim of providing grassroots relief to the people of Ukraine.
The Waves Over War Festival is the brainchild of Elijah Thompson and Ellisa Thompson of Koru Village (which includes Pangea Tavern, Koru Beach Klub and Avon Pier), and donations from the event will go directly to World Central Kitchen , a not-for-profit, non-governmental organization that currently provides meals to Ukrainian families in need.
"This festival was born out of a sense of grief and compassion for what is happening in Ukraine right now," said Elijah Thompson. "My family has worked with many Ukrainians and become friends with them for life, and knowing the hardships they face is a hard thing to swallow."
"As a small community, it's easy to be bombarded with bad news every day, and [to] are starting to feel helpless about what we can do from such a long distance," he added. "My sister and I envisioned this festival as a way to consciously open our hearts as a community to how we can spread love and change here, no matter how small."
The festival takes place from 5:30 p.m. to 9:00 p.m. at Kavon Park in Avon, which is right next to Avon Pier. Live music will be provided by After School Surf Club and Friends, and the festival will also feature an array of local artisans as well as several food trucks including the famous Stu's Food Truck and Roots and Leaves.
The event is free and open to the public (including canine visitors), but donations are strongly encouraged in order to support the Central Cuisine of the World as much as possible.
"We believe that even the smallest intentions have the greatest effect," Thompson said, "and we intend to make this festival part of bringing more love and peace to our community and the world by general."
For more information about the festival and to follow updates and additions, visit the event's Facebook page at https://www.facebook.com/events/524219556019565/.