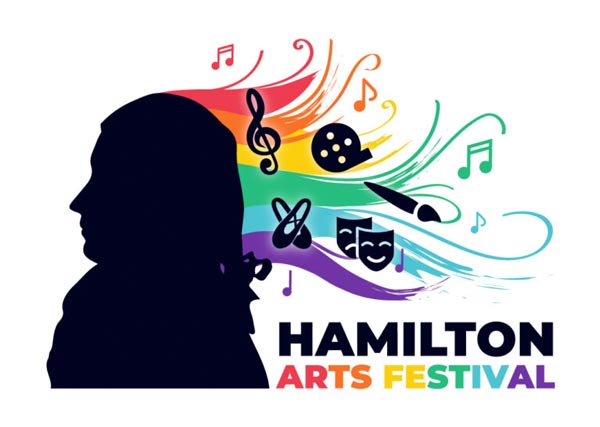 The Hamilton Arts Festival takes place June 17-25
NEW | FEATURES | PREVIEWS | EVENTS
originally published: 08/06/2022
(PATERSON, NJ) — The Paterson Performing Arts Development Council (PPADC) announced the lineup for the Hamilton Arts Festival 2022. The festival runs from June 17-25, 2022, with a series of events including theater productions and film screenings.
The Hamilton Arts Festival (HAF) is a performing arts event designed to promote and showcase the works of underrepresented and underserved artists from theatre, film and other disciplines. The HAF lineup includes readings and productions (virtual and in-person) from the winners of the PPADC's Show Me The Monologue Playwriting (SMTM) competition.
This year's Playwright Showcase (June 17, 2022 at 7:30 p.m.) is alliesa dramatic play written by SMTM runner-up Michael McGoldrick that is a biting and satirical look at the tangled intersection of religion, progressivism and capitalism in today's culture. allies was developed by the New Jersey Play Lab in 2019 as part of its comprehensive residency program. Directed by Andrea Andresakis, this virtual reading will be broadcast on ZOOM and will be followed by a discussion with the playwright. Tickets are $7.
Additionally, as part of HAF's lineup, a showcase of short films (June 21, 2022 at 7:00 p.m.) by independent artists, including Anita Rajan Daswani, whose drama, The Missed, follows a family who must make face a haunting story and unforeseen reality when unhealed wounds are left to fester.
"As an actor, writer, and filmmaker, I am drawn to artistic subjects that promote social change and influence the general public to become pioneers in their own communities," says Daswani. "My goal is to normalize people of color in narratives that speak to our daily lives as Americans and as human beings."
The screening of HAF's film will be held at the Fabian 8 Cinema, 301 Main Street, Paterson, NJ. Following the screening, a panel discussion on suicide prevention and mental health issues. The event is free.
A revival of Brown, Black and Blues will take place on ZOOM (June 22, 2022 at 7:00 p.m.). Brown, Black and Blues is a moving performance of music, dance and poetry that will premiere at the New Jersey Theater Alliance's Stages Festival 2022. A discussion will follow the presentation. Tickets are $7.
The main event of this year's HAF is the drama play BREAKZ (June 24, 2022 at 7:00 p.m.) by aspiring playwright Cris-Eli Blak, SMTM's first laureate and PPADC playwright-in-residence. BREAKZ tells the story of a rising rapper who must come to terms with his life choices, after estranged friends begin to return to his life and tragedy strikes his old neighborhood.
"We are privileged to be one of the organizations poised to shine a light on emerging talent, artists whose works feature rich, multi-layered characters and resonate with so many in our community," said Denise E. Womack, local poet and president of the board of the PPADC. . "We are committed to developing artists and fueling the creative process to allow lesser-known voices to shine."
BREAKZ performs June 24, 2022, 7:00 p.m. ET, at the Nimbus Arts Center, Black Box Theater, 329 Warren St, Jersey City, NJ. Tickets are $10.
PPADC is committed to presenting events that are accessible, free or low cost, diverse and inclusive of a wide range of artistic voices. The Hamilton Arts Festival is made possible through funds from the Passaic County Cultural & Heritage Council, a partner of the New Jersey State Council on the Arts.
The Paterson Performing Arts Development Council (PPADC) is a 501C3 nonprofit organization based in Paterson, NJ. The PPADC devotes its energy and resources to fulfilling its mission of bringing together diverse communities through arts and culture events, establishing career paths for aspiring and accomplished independent artists, and promoting the town of Paterson as a destination for art lovers. The PPADC also strives to engage and encourage artistic youth in our city. PPADC is an affiliate member of the New Theater Alliance, the nation's premier statewide professional theater service organization; and a member of ArtPride New Jersey, the state's largest arts service and advocacy organization.
Advertise with New Jersey Stage for $50-$100 per month, click here for more info
---