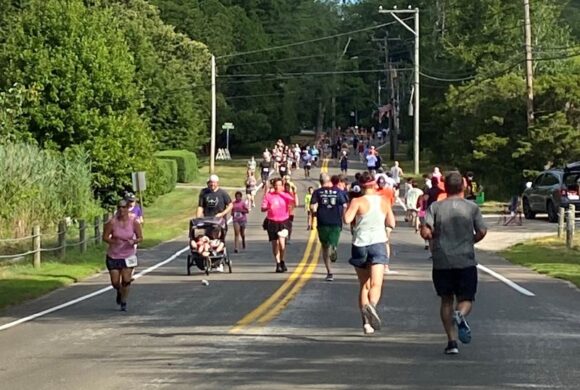 The Old Lyme Midsummer Festival is back with a (happy) bang!
OLD LYME — Clear blue skies and warm temperatures greeted the return of the Old Lyme Midsummer Festival yesterday, after a two-year absence due to COVID. From the start of the day, Lyme Street was bustling with cheerful people of all ages enjoying the activities and festivities on offer and browsing the wide variety of arts, crafts and edibles for sale.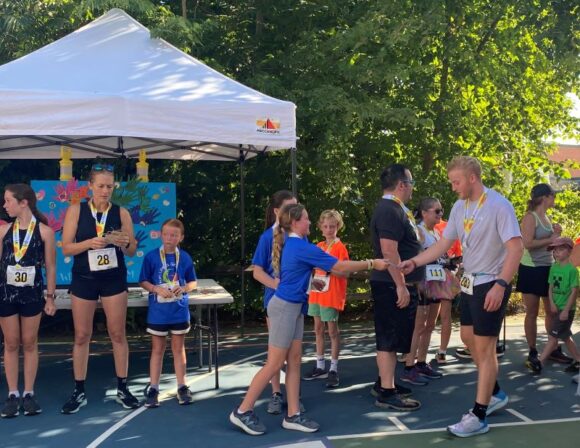 The prizes were handed out after the race by Alli Behnke and his team of winner helpers. The photo above shows Rowan Hallahan receiving his award.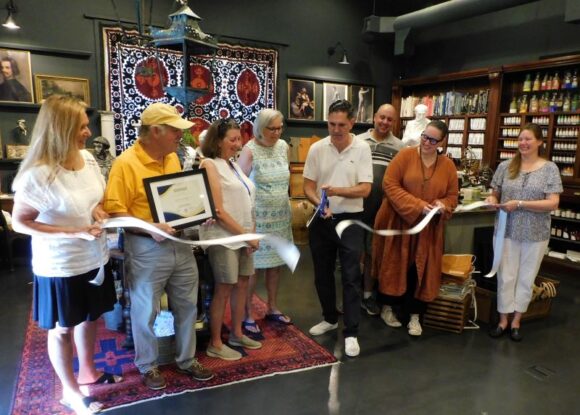 Shortly after, a ribbon cutting took place at the Lyme Academy of Fine Arts (LAFA) to celebrate the official opening of the by Gerenday fine arts Shop Materials and Curiosities on the campus. All members of the Old Lyme (OL) Board of Selectmen – First Selectman Tim Griswold (second from left), Selectwoman Martha Shoemaker (fourth from left) and Matt Ward (third from right, rear) – as well as members of OL's Economic Development Commission (EDC), whose chair Cheryl Poirier (third from left) and Mona Colwell (left), were on hand to watch the ceremony.
LAFA Board Chairman Michael Duffy cut the ribbon while LAFA Executive Director Mora Rowe, to his right, looked on excitedly. Holding the ribbon on the far right was Cameron Paynter, who is the store associate responsible for running the store.
Outside on the Academy grounds, several different bands played, drawing listeners in for a bale of straw to rest on.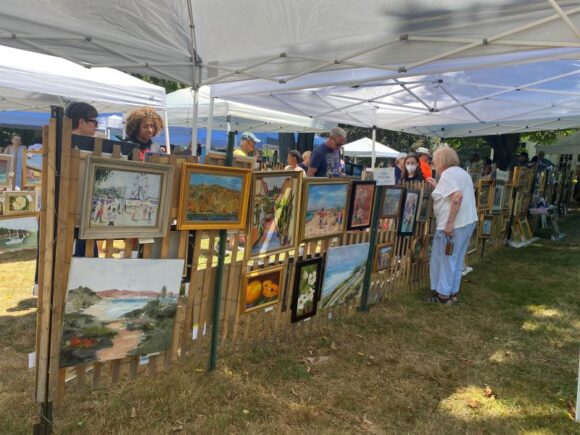 On the other side of the Old Lyme Inn, the Fence Show Artists plied their trade.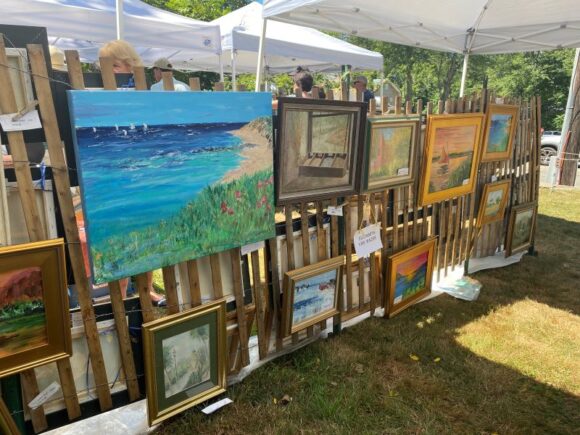 The range of styles and genres of artwork was exceptional this year.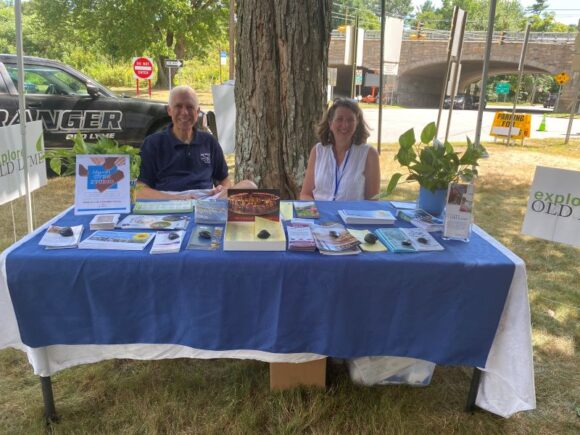 At the Lyme Art Association, visitors were first greeted by the smiling faces of OL EDC members, in this case Joe Camean (left) and Cheryl Poirier.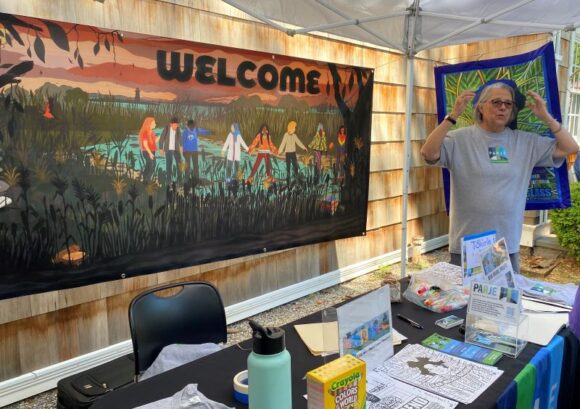 Nancy Gladwell explained to those who stopped by the Public Art for Racial Justice Education (PARJE) booth what PARJE's mission is and how the group works to achieve it.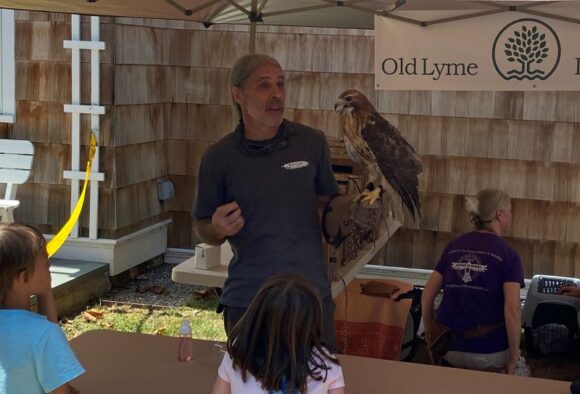 The Old Lyme Land Trust hosted A Place Called Hope, who gave a popular demonstration including the live raptor pictured above.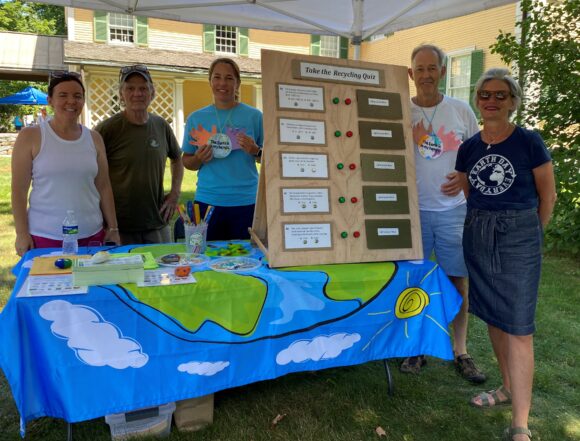 Members of the OL Solid Waste & Recycling Committee gathered for a photo at their booth on the grounds of the Florence Griswold Museum. Fred Behringer (second from right) and his daughter (not pictured) had created an ingenious and interactive game to test people's knowledge of local recycling facts and figures. It proved to be a great attraction and attracted many enthusiastic participants.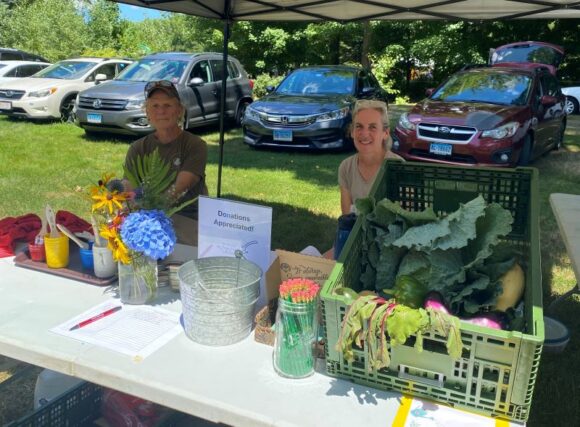 Jim Ward and his wife Sheila McTigue Ward manned the Lyme-Old Lyme Food Share Garden tent, encouraging new volunteers to sign up while sharing information about this remarkable project.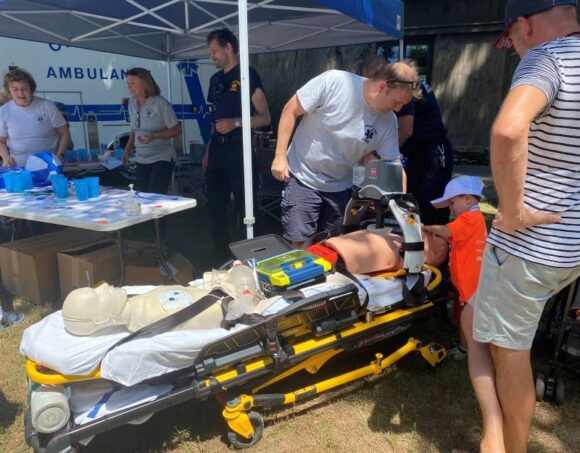 Old Lyme Emergency Services Management volunteers have worked hard to demonstrate the skills they employ to people who have come to their tent, also at the museum. This young visitor was especially interested in the profession of resuscitation!
Editor's note: We have more photos and text to add to this story, but we're currently having wi-fi issues so we'll be posting this now, with plans to finish it later.