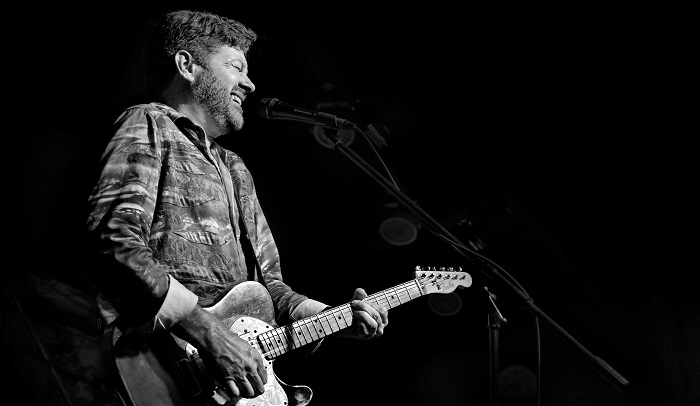 Top 20 NJ Art Events of the Week: Crawfish Fest, Coldplay, 'Three Sisters', 'Grease', more
Here's a roundup of arts events happening across the state, through June 9.
MUSIC
• After having to skip two years because of the pandemic, Michael Arnone's Crawfish Party — whose history dates back to 1989 — will return to the Sussex County Fairgrounds in Augusta, June 3-5, with Samantha Fish, Tab Benoit, Dirty Dozen Brass Band, Jon Cleary & the Absolute Monster Gentlemen, Big Sam's Funky Nation, Bonerama, Ally Venable and many more performing on three stages. Of course, for many festival attendees, the authentic Louisiana food – boiled crayfish and jambalaya and po' boys and so on – is as much of an attraction as the music. It's also a camping festival: overnight camping begins on June 3, and there will be nightly music for campers only, on June 3 and 4.
• The Jersey City Jazz Festival takes place June 4 from 12 p.m. to 6 p.m. and June 5 from 12 p.m. to 8 p.m., featuring jazz, salsa, flamenco and more on two stages, plus food trucks and a beer garden. Enter Warren Street, between Morgan and Steuben streets. The June 4 lineup includes Little Johnny Rivero, Svetlana, Santi Debriano's Arkestra Bembe, Andreas Arnold Quintet, Winard Harper & Jeli Posse, David Kikoski Trio, Lezlie Harrison and Nation Beat. Performers on June 5 include Johnny Rodríguez & the Dream Team, Julian Lage, Aurora Nealand & the Royal Roses, Gonzalo Bergara, Walter Parks & the Unlawful Assembly and Sounds of A&R.
• Members of the revolutionary hip-hop group The Sugar Hill Gangbest known for his 1979 hit "Rapper's Delight," will talk about their music and career, and give a brief musical performance, at the Grammy Museum Experience at the Prudential Center in Newark on June 3 at 7 p.m. The talk will be moderated by Mark Conklin, Director of Artist Relations and Programming, Grammy Museum Experience.
• Cold play brings its Music of the Spheres World Tour to MetLife Stadium in East Rutherford, June 4-5 at 7 p.m., with HER opening. The tour is named after the band's 2021 album – which yielded hits 'My Universe', 'Higher Power' and 'Let Somebody Go' – and represents one of the rock world's most ambitious attempts to ascend an eco-friendly megatower, with 12 "Sustainability Initiatives" which you can read more about here.
• The Atlantic City Beer and Music Festival will take place June 4 and 5 at Bader Field, featuring musical attractions such as Alkaline Trio, Thrice and Goalkeeper, June 4 from 2 p.m. to 6 p.m.; and New Found Glory, Four Year Strong and Be Well, June 5 from noon to 4 p.m. There will also be a small stage with Away Game, Cult Tides, Last Minet and Suburban Sensi on June 4; and Cat Manning, All Systems Go, Familiar Things and Dylan Calvelli, June 5.
• Camden County's Free Sunset Jazz Series at Wiggins Waterfront Park in Camden begins June 6 at 8 p.m., with Kenny G.. Upcoming offerings in the series include Danilo Pérez's Global Messengers on June 20, Corinne Bailey Rae on June 27 and Ruthie Foster on July 18, with more to come later.
• In a show postponed from March due to COVID, "It was fifty years ago today" – taking place at the Count Basie Center for the Arts in Red Bank, June 8 at 7:30 p.m. – will feature an all-star band performing Beatles songs rubber core and Revolver albums, as well as their own hits. The group will include Todd Rundgren, Christopher Cross, Jason Scheff (formerly of Chicago), Badfinger (with Joey Molland) and Denny Laine (formerly of The Moody Blues and Wings).
• Willie Nile will headline the free Woodbridge Summer Festival, which will take place on June 4 at Merrill Park in Colonia. Nile will perform at 8 p.m., following sets by David Bowie Starman tribute, Bruce Springsteen Saints in the City tribute, Southern Steel, Shore Soundz and The Dead Cowboyz. The family festival will also feature food vendors, a beer truck and children's activities.
• Veteran disc jockey Bruce "Cousin Brucie" Morrow will host Tommy James and the Shondells, Little Anthony and The 1910 Fruitgum Company during a free concert at the PNC Bank Arts Center in Holmdel on June 9 at 7:30 p.m. The show is presented by the Garden State Arts Foundation, which has been hosting shows like these since 1999. Tickets for the show are free and will be mailed out; to subscribe to the mailing list, call (732) 442-9200.
• The virtuoso bassist Victor Wootenbest known as a member of Béla Fleck & the Flecktones, will appear in a three-part performance for the Elizabeth-based Children's Music Institute at Kean University's Enlow Recital Hall in Hillside on June 3, which will include a masterclass (open to musicians of all levels, not just bass players) at 4:30 p.m., a concert at 8 p.m., and a VIP after-party (including hors d'oeuvres, wine, beer, and signed copies of Wooten's book, " The Spirit of Music") at 9:30 p.m.
• Mars Junctiona cover band featuring Tyler and Cameron Winklevoss – the twins who were both played by Armie Hammer in the 2010 film, 'The Social Network' – will perform songs by bands including The Killers, Blink-182 and Rage Against the Machine at The Wonder Bar in Asbury Park, June 9 at 7 p.m.
• Eight-time Grammy-winning jazz bassist, bandleader, composer, educator and producer Christian McBride will be roasted at a fundraiser June 6 at NJPAC in Newark, with proceeds going to NJPAC and Montclair-based educational organization Jazz House Kids. McBride is the jazz advisor for NJPAC and is also the artistic director of Jazz House Kids, which his wife, Melissa Walker, founded. Comedians George Wallace, Jeff Ross and Amanda Seales will be among those to roast McBride, who celebrated her 50th birthday on May 31.
THEATER
• The Shakespeare Theater of New Jersey opens its 2022 season with "Enchanted April" which begins previews on June 8, officially opens on June 11, and will run until June 26. The play, which will be performed at the FM Kirby Shakespeare Theater at Drew University in Madison, was adapted by Matthew Barber from Elizabeth von Arnim's 1922 novel The Enchanted April, about four British women vacationing together in Italy.
• Red Bank's Two River Theater to Present Playwright Madeleine George's New Translation of Anton Chekhov's Classic Family Drama "Three sisters," with previews starting on June 4, the official opening night on June 10, and the final show on June 26. "We want to introduce this piece to new audiences and reintroduce it to old ones by reaching out and saying, come with us – this is not a museum piece," director Sara Holdren said in a press release. "It's not even really a period piece. It's a playground and a rock concert and a comedy and a tragedy. Welcome aboard."
• Remember Jones, whose Meat Loaf tribute recently sold out three shows at the Axelrod Performing Arts Center in Deal, will return to theater to appear as the pop idol character known as Teen Angel in the musical "Fat," which previews June 3, then airs June 4-5, 8-12, and June 15-19.
THE COMEDY
• Colin Jostwho co-hosts "Weekend Update" on "Saturday Night Life" – and has served as the anchor on more "Weekend Update" installments (173) than anyone else in the show's 47-season history – will bring a rare stand-up tour at the Count Basie Center for the Arts in Red Bank, June 2 at 8 p.m., and the Wellmont Theater in Montclair, June 8 at 8 p.m. The tour was originally scheduled to coincide with the release of Jost's 2020 memoir, "A Very Punchable Face," but was postponed due to the pandemic.
• The Carteret Performing Arts Center has a new performance space, The Underground, located on its lower level and offering seating, as well as food and drink. It will be used as a comedy club in a series launched with the former 'Howard Stern Show' staffer Shuli Egar, June 3 at 7 p.m. and 9 p.m., and continues with "She Got Jokes Too" (with Vanessa Fraction, Jo Jo Collins and Monique Latise), July 14 at 7 p.m.; Jackie "The Joke Man" Martling, July 16 at 7 p.m.; and Aunt Mary Pat, July 29 at 7 and 9 p.m.
• Former United States Senator, best-selling author, podcaster, and former "Saturday Night Live" writer and cast member Al Franken will be making an appearance at the Count Basie Center for the Arts at Red Bank on June 3 at 8 p.m. as part of his The Only Former U.S. Senator currently on tour. Franken won five Emmys for his work on "Saturday Night Live" and "The Paul Simon Special" in 1977, and Grammys in the Comedy Album and Spoken-Word Album categories. His film work includes 1995's "Stuart Saves His Family," based on his "SNL" character, self-help guru Stuart Smalley. He served as a Minnesota senator from 2009 to 2018, resigning after being accused of sexual misconduct.
PHOTOGRAPHY
• Opening of the Grammy Museum Experience at the Prudential Center in Newark "A Hip-Hop Life: Five Decades of Hip-Hop Music, Art, and Culture," on June 3 and will continue until October 30. The exhibition features photographs by Ernie Paniccioli from throughout hip-hop history, Tupac Shakur, The Notorious BIG, Naughty by Nature, Lauryn Hill, The Fugees, Ice-T, Chuck D, Queen Latifah and others.
DANCE
• Peak Performances Series at Montclair State Theater Presents World Premiere "Curriculum II", by the Bill T. Jones/Arnie Zane Company, June 9 and 10 at 7:30 p.m., June 11 at 8 p.m. and June 12 at 3 p.m. at the Kasser Theater. The play, co-choreographed by Bill T. Jones and Janet Wong, is described as "immersive theater," with seats on the Kasser stage. It was originally commissioned as a film project, but is being reimagined as a live performance, with the focal point coming (according to Peak's website) from Louis Chude-Sokei's treatise "The Sound of Culture: Diaspora and Black Technopoetics", which "explores the connection between race and technology, from minstrelsy, music production, cybernetics to artificial intelligence and posthumanism.
COMMENTS
"Theda Sandiford: Joyful Resistance" at the Center for Contemporary Art in Bedminster. (Until June 4)
"Exposed" at the Black Box Performing Arts Center, Englewood. (Until June 5)
"Tenacity and Resilience: The Art of Jerry Pinkney" at the Montclair Art Museum. (Until June 26)
"Ecstatic Decrepitude", works by Peter Schumann at ArtYard, Frenchtown. (Until July 31)
We need your help!
CONTRIBUTE TO NJARTS.NET

Since its launch in September 2014, NJArts.net, a 501(c)(3) organization, has become one of the most important outlets for the Garden State arts scene. And it has always offered its content without subscription fees or paywalls. Its continued existence depends on the support of members of this scene and art lovers in the state. Please consider making a contribution of any amount to NJArts.net via PayPal, or by sending a check payable to NJArts.net at 11 Skytop Terrace, Montclair, NJ 07043.