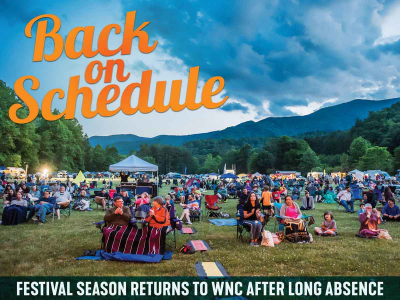 WNC festivals, events slowly returning to normal
It's been just three years since the Cold Mountain Music Festival took place in a large field within earshot of scenic Lake Logan. And, for Jeff Whitworth, although the long road back to the stage has been arduous, he is beginning to see the light at the end of the tunnel.
"The music industry landscape right now is one of cautious optimism, but everyone is ready to go again," Whitworth said. "And we've been doing everything safely for so long, that I also think everyone is pretty well trained on what to expect, in terms of the expectations of event organizers and spectators."
Whitworth is the owner of Worthwhile Sounds, a renowned reservation agency in western North Carolina. The company sets up performance times not only for CMMF and other regional gatherings, but also for The Gray Eagle, New Belgium Brewing and Downtown After 5 (all in Asheville), as well as the Bijou Theater in Knoxville, Tennessee.
And on Saturday, June 4, CMMF – dormant since 2019 – will rise to the occasion once again when bands like Hiss Golden Messenger, Futurebirds and The Mother Hips, among others, take to the mic, the melodic sounds of passion and goal ricocheting off the nearby mountain ridges cradling the facility.
"Everyone is still expecting to pick up their bits here and there as we continue to navigate through 'it all,'" Whitworth noted. "But, these days, we've all learned to be flexible and have the ability to make changes on the fly, keeping everyone safe while still being able to move forward and make changes. so that events happen."
JS Ondara on stage at the Cold Mountain Music Festival in Lake Logan. (photo: David Simchock)
With CMMF now full steam ahead under easing restrictions and government mandates, the festival itself is a beacon of light as the summer tourist season approaches, ultimately signaling what could come to fruition as another record year for the number of visits and expenditures.
"I expect we will have a very busy travel season this summer," said Nick Breedlove, executive director of the Jackson County Tourism Development Authority. "And our strategy this year is to encourage visitors to be their own tour guide of sorts – fly fishing, breweries, farm-to-table cuisine, hiking, you can do it all here."
Figures show Jackson County's "heads-in-beds" hotel room tax already tops $2.2 million for 2021-22, Breedlove expects that amount to reach $2.5 million dollars once the fiscal year ends in June. By comparison, the collection for the 2020-2021 fiscal year was $1.9 million.
"And with the [record] number of visits [during the shutdown] in our region we try to be more selective in our marketing, where we don't necessarily want to have fewer visitors, but a visitor who contributes more to the economy and [preservation of] the environment," Breedlove said.
Looking at CMMF, Whitworth said early bird ticket sales were double compared to previous years. It's an encouraging sign for the festival's return, especially with the calendar of events around western North Carolina filling up with countless rallies aiming to make a comeback.
"There is more demand than ever to see live music – supply has increased as demand has increased," Whitworth said. "Everyone wants to go to a concert after having to sit for so long. That, and every band in the country is apparently on tour right now to make up for their inability to work and perform during the shutdown.
Another encouraging sign was the annual Greening Up the Mountains – the unofficial kick off to the WNC festival season – which took place in downtown Sylva last month. Normally held every April, the 2021 edition has been pushed back to August to coincide with the drop in the number of COVID-19 cases. But, organizers were confident of bringing GUTM back in April for 2022.
"This time around, our festival was bigger this year than the one we had in 2021," said Kendra Hamm, event coordinator for GUTM. "Our attendance for 2022 was double what we saw last summer. And although we are not yet a full-scale festival [compared to pre-COVID numbers]I would say that we will return to our previous figures in the next two years.
Attracting tens of thousands of locals and visitors in 2019, GUTM typically attracts around 175 vendors. While that number has dropped significantly in 2021, this round has seen a slight increase with over 90 vendor spaces in place.
"Under the conditions, we are pleased with this year's attendance and supplier participation," Hamm said. "And the festival was also a test bed for the new social district [for open containers of alcoholic beverages] in place for downtown, which was successful in what we saw and observed.
Greening Up the Mountains Festival in downtown Sylva. (photo: Jeff Bean)
In an effort to find, perhaps, a silver lining amid the daily chaos of unknowns during the pandemic, Hamm said the shutdown also gave a much-needed break to recalibrate GUTM: what it is, maybe and could be . Many events and organizations around the world have also used the pandemic downtime constructively to reassess and implement positive new growth.
"Now is the perfect time to assess everything and ask ourselves – do we want to go back to how it was or do we want to do something different?" Hamm said. "[For many of us]nobody really remembers what we were doing before COVID, so now is the time to explore new ideas, new ways of doing things, to have new leadership and a new vision of how to manage the things.
And with CMMF just a week away, Whitworth stands at the crossroads of what has been and what is to come. He remains genuinely upbeat as he navigates the sometimes choppy and unforgiving waters of the music industry and festival environment.
Anyway, the CMMF step in this vast field is ready to start. The production equipment will soon be installed and the ticketing tents set up. And, soon enough, the gates of Lake Logan will open again for musicians and spectators.
"The Return of Cold Mountain [and other events around Western North Carolina] is a testament to the people who really held on and were able to hold on," Whitworth said. "There was a moment in the middle of the pandemic when many of us feared that the live music world would one day fully return – [next week] will be symbolic of the path taken.